Beach Towing & Recovery Services. Experienced Beach Recovery Specialists,
Utilising Our Dedicated 4WD Beach Tow Truck To Assist You 24/7
Local service centres near Double Island, Inskip Point, Tin Can Bay & Noosa North Shore. Clayton's has 4WD tilt tray tow trucks for all beach conditions, allowing us to reach your vehicle faster!
Fraser Island Towing & Rainbow Beach Recovery
Double Island & Inskip Point Recovery
Our off-road tow trucks are modern, clean, safe and reliable. Fitted with the latest
4WD Recovery Equipment
, allowing us to reach your vehicle faster, in all beach conditions. Clayton's Towing offers beach recovery & towing services across Queensland and is available, 24 hours a day, 7 days a week. Operating throughout Queensland with over 12 Depot locations & our head office based in Nambour on the Sunshine Coast. Wherever you may require assistance, your local tow operator will be with you in no time! Our fully licensed tow truck operators are fully trained and regularly assessed. Off-Road Towing or Beach Recovery, Request a Towing Quote Here;
Contact our recovery specialists for a free quote. Fast, Reliable and Guarnteed Recovery Everytime!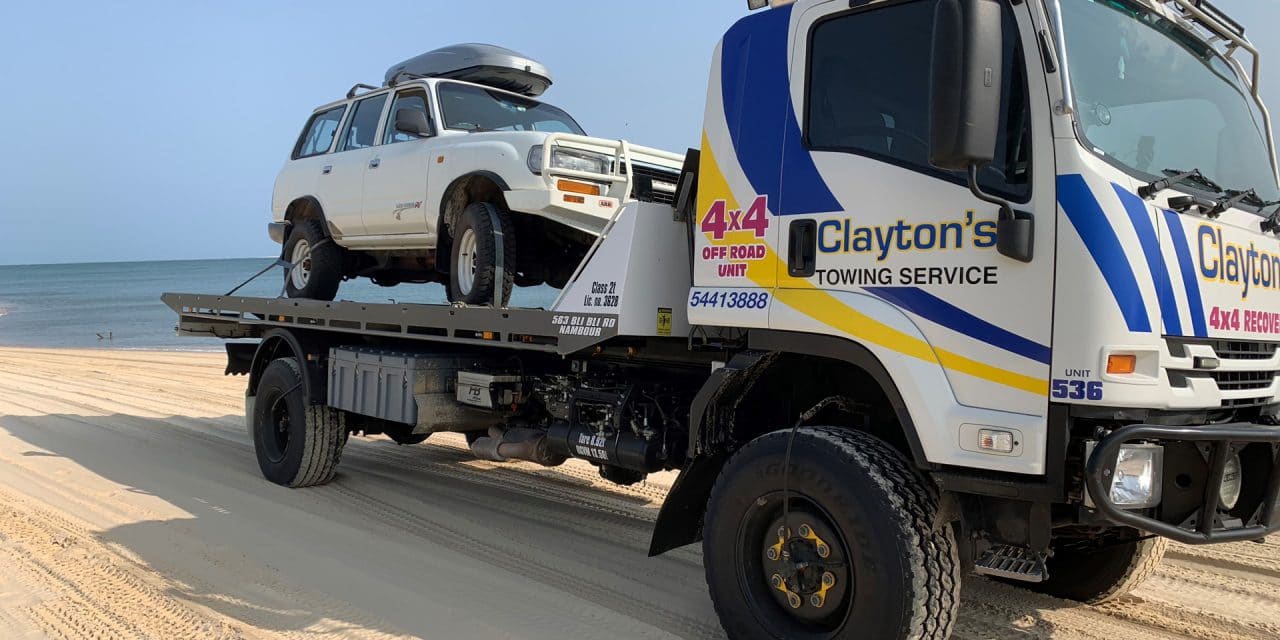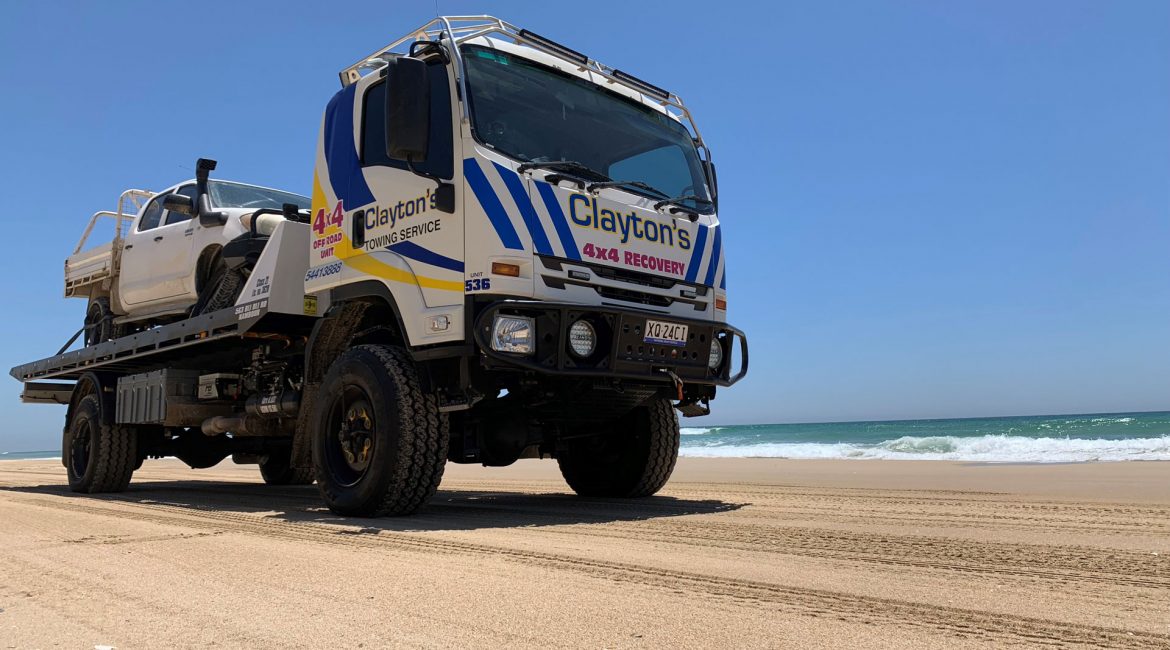 Local Beach Tow Trucks & Off-Road Solutions
Beach towing and recovery in Queensland
The beaches around Double Island, Inskip Point, Tin Can Bay and the Noosa North Shore are beautiful areas that are great to explore with a 4WD, but it doesn't take much to get stuck in a patch of soft sand. When you've tried all the usual tricks to get your bogged 4WD free, it's time to call Clayton's Towing Service. Our off road tilt-tray trucks are perfectly suited to help with a beach recovery of your stuck vehicle. With 50 years of experience operating tow trucks in Queensland, our beach towing service will get your bogged 4WD back on the road in no time.
Beach towing in Queensland is always near you
When you have a bogged 4WD on the beach you want a quick response. Clayton's Towing Service has 14
service locations
across Queensland, so it doesn't matter where you find yourself stuck, we'll be there for beach recovery quickly. When you need beach towing, get in touch by phone. We are available for emergency call outs, regardless of the time of day or day of the week.
Tilt tray off road tow trucks
In most cases we'll send a tilt-tray off road tow truck to help get your vehicle unstuck. These trucks are perfect for beach towing, with the largest in our fleet capable of hauling 10 tonnes, more than enough to haul your bogged 4WD back to a sealed road. The flatbed slopes down, and your vehicle is winched up onto the bed and tied down securely before setting off. In most cases beach towing is as simple as winching your vehicle out of the soft sand and onto the flat bed, but on occasion a stuck vehicle might require more work to free. As experts in off-road and beach recovery, Clayton's Towing Service can bring a wide range of equipment to tackle the problem to get your bogged 4WD free quickly and easily.
Beach towing in Queensland from the largest tow truck company in the state
Clayton's Towing Service is the best choice for beach towing and recovery in Queensland. With our huge fleet of vehicles and decades of experience in tackling everything from roadside assistance to
marine services
and transport, there is no job that is too difficult for us. If it is not an emergency, contact us online for a free quote or call Clayton's Towing Service and we will be there as quickly as possible to help you get unstuck.