Low Loaders & Heavy Haulage
Heavy Haulage & Transporting Solutions Across South-East Queensland.
Offering Safe and Compliant Transport Services & Industry Leading Haulage Solutions
Clayton's offers transportation solutions for one machine operations to multinational corporations. With non-stop 24 Hours 7 Days a week transport services available. Australia Wide haulage solutions available upon request.
Haulage Services & Transportation
Over 50 years the Clayton's heavy haulage fleet has grown to service a wide customer base. This includes one man operations, to multi national rental companies and construction companies. Our massive  fleet contains all the latest equipment available, fitted out with sophisticated tracking and monitoring systems. Operators are all fully trained, regularly assessed, and continually updated to keep up with the rapidly growing industry.
Over-dimensional, haulage, plant & equipment transportation services. Clayton's Towing are known as industry leaders in haulage services across Queensland. Fleet capability of transporting upto 150 tonnes with Super Tilt low loaders upto 25 tonnes carrying capacity.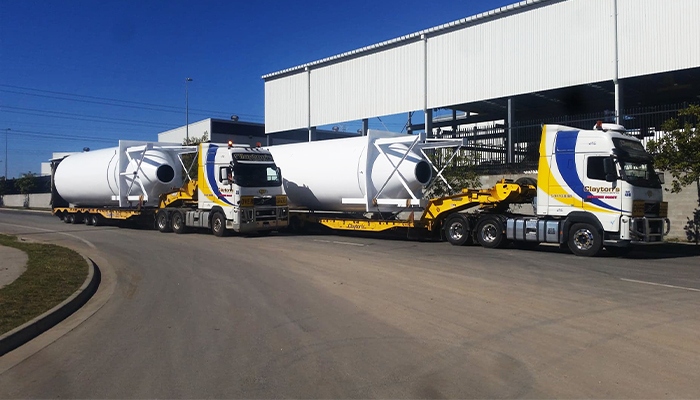 Single and Bogie drive Tilt Trays
Bogie and Tri Axle Supertilts
2×4 Low Loaders
3×4 Deck widening Low Loader with Bi Fold Ramps and winch
3×4 Deck widening extendable (to 15m) Low Loader with with Bi Fold Ramps and winch
4×4 axle widening Low Loader with with Bi Fold Ramps and winch (1 with 750mm drop well for high loads)
2×4 dollies
Semi trailer Crane units
Container Side Loader
Earthmoving equipment
Hire Equipment
Pavers
Rollers
Access Equipment
Boom Lifts
Profilers
Shuttle Buggies
Local Heavy Haulage With Transport Industry Experts
Your specialists for heavy haulage in QLD
As the state's largest heavy towing provider, Clayton's Towing is the natural choice when you need help with heavy haulage in QLD. Across our fleet, our state of the art trucks can haul up to 150 tonnes — the weight of the world's largest bulldozer — so there's nothing we can't transport. And with our team available 24 hours a day, 7 days a week, you can always count on us whether you need Mackay heavy haulage or breakdown assistance in Brisbane.
Low loader services for machinery and vehicles
Clayton's Towing brings a fleet of low loaders to help with your heavy haulage requirements all over the state. Low loaders are a type of semi-articulated trailer that contains two drops in the bed – behind the hitch and before the rear axle – that make the bed very low compared to standard trailer beds. This allows taller loads to be carried safely in a way that standard trailers cannot. With the additional height offered by a low loader, it is the perfect vehicle to transport oversized loads such as:
Industrial plant machinery
Prefabricated buildings
Construction vehicles
Tractors and agricultural equipment
Extremely oversized loads may require additional planning, and some are subject to approval by local authorities. But with our fully trained and qualified operators and the latest equipment, there is very little we cannot transport with our low loader services.
Always local haulage services
With depots and service locations across South-East Queensland, you are never far from Clayton's Towing. Whether you need a low loader, heavy haulage or even heavy equipment recovery, our large network means we can be there quickly to help. This is vital in the case of a critical incident, but it also means that our trucks don't have to travel as far to get to you, which means less fuel is used, less wear on our equipment, and ultimately lower costs for our customers.
Serving everyone in Queensland
At Clayton's Towing, we serve a wide customer base. We offer excellent service whether you are an individual looking for low loader services to move a piece of farming equipment across the state or an interstate company moving equipment to a new factory. When it comes to heavy haulage in QLD, you can rest assured that we can cater for anything – we've been doing it for 50 years already!
Whether you are in Brisbane or Mackay, heavy haulage is easy to book with Clayton's Towing. Get a quick quote online, or contact us to let us know what you need to transport, and we'll get back to you quickly to arrange it. For emergency assistance, give us a call for an immediate response.