Quality, Safe & Reliable Towing Solutions
24 Hours A Day
7 Days A Week
Had a flat tyre tonight. Jason was there within 15 minutes of calling and the wheel was replaced within 5 minutes. Great service and top bloke!

Rob Shaw

Awesome company, always no.1 service , thanks guys 🙂

Keri Sarsfield

Always doing their best to meet deadlines

Daniel Calrow

Very helpful people , a great business! Thanks

Lancia

everything regarding towing there is nothing they can't do from pickup a motorcycle to the biggest of b double trucks

Jeremy Higgs

I've been watching CLAYTONS because I toe a big caravan and I've listened to some of their comments on towing van and things to look out for so if I need help it will be Clayton's cheers

Robert Quarrell

Awesome service , Love the show.

Jesse Godoy Lemos

Great Service, helped me out very quickly

Troy Morris

Rang them after getting my truck bogged on a private property were there half hour later with their mega tow thanks again

Jason Mckenzie

Thanks to "unit 527" who rescued me on the Bruce Highway this arvo just before the yandina turn off! Pretty scary stuff when your car just shuts down on you...but he was there within 30 mins. Thanks so much!

Caroline Parks

Best service fantastic staff and got our delivery to our home safely would highly recommend

Ali Raybould

We had Jason pick us up when our car broke down last week. He was very professional and extremely helpful and nice. Thank you

Kari Penny

Thanks for helping me this morning for my car breakdown in a busy shopping centre great service & with a smile 😃

Dawn Simm

Great service. The staff was very friendly and helpful!

Dean Pawlak

Awsome Crew an keep up with the awsome great work that u do too help people out of bad situations ,I have wanted too be a Towie as i like too help people

Leon Bennett

Bloody awesome service and the red Barron was an absolute pleasure to deal with. Nothing was a problem 👍. Fantastic service 11 out of 10

Dean Rogers

We would like to thank Clayton's Towing for their empathy and understanding while Wayne collected our belongings from our wrecked caravan and car. Thank you again guys and the ladies in the office.

Margaret N Wayne Woodcroft

A big thanks to Alex had a flat battery at varsity car park silly me left the lights on great service and quick

Round Tav Gone

thanks for the courteous and speedy delivery home of my ford!

Trish Pearce

We are so thankful for John rescuing us, our puppy, car and caravan today! What a wonderful man who went above and beyond to get us all home.Thankyou so much John, you're a total gem!!

Rowena Amin

Fantastic service, driver was helpful, professional and super efficient.

Morgans Long Distance Transport Nicole Daw

Would always use Claytons,Combined,Major towing when up around the Sunshine Coast.In my line of work I need the best towing company to help me out.

Chris Ramsay

I personally have been helped by the Clayton's team after an accident & our family loved the show

Michelle Jarrett

Luke was amazing. He was patient professional and did the best job getting my car unlocked. I could not have been more impressed with his service and time. Most amazing service could not recommend more highly

Emma Kate

Josh just made my day! Thank you for turning a crappy experience into a positive one bud! Absolute Legend

Rewi Erickson

Polite, friendly and u understanding

Megsy Browning

Amazing service. Fast and friendly. Helped with were I should take my car to be fixed. Local knowledge always goes a long way . Thanks mate

Evan Johnson

Towed my semi trailer, very professional. Highly recommend Claytons.

Trever Jackson
Clayton's Towing Service is Australia's Most Comprehensive Fleet in Vehicle Transport & Tow Truck Services
Queensland's Leading Towing Company, servicing across the south-east for over 50 years. 24 Hours A Day, 7 Days a Week. Accident Car Towing & Roadside Assistance, whether you need a tow truck for a Motorcycle or a Heavy Tow Truck for b double recovery. Rest assured you can depend on Clayton's to get it done right, the first time.
*Working with all major insurance providers throughout Australia
Queensland Wide Tow Truck
& Transportation Services
Comprehensive solutions in Transportation and Towing Services across, Sunshine Coast, Mackay, Toowoomba, Rockhampton, Gympie, Caboolture and surrounding suburbs. Along with servicing Australia Wide upon request;
Check That We Service Your Location?
We Care About Our Service
At Clayton's we ensure the best for our customers with fully insured services, Industry Leading Equipment & Highly Qualified Staff to assist.
Offering Premium Services across South-East Queensland at reasonable prices.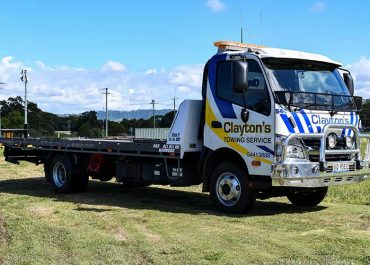 Careers With Clayton's Tilt Tray Operator – Sunshine Coast Region Title: Tilt Tray Operator Summary: Clayton's is always looking for…