Your Leading Heavy Towing Provider For Heavy Duty Towing, Truck Towing & Transportation
Our Heavy Tow Trucks are Fully Equipped with the most advanced towing and recovery equipment. You can be assured, when you require Heavy Vehicle Services, that the Clayton's Towing fleet will have the right equipment to get it done.
Our Specialised Heavy Towing Units are fully equipped with the latest modern towing and recovery equipment! Along with our experienced operators, you'll never need to worry about having Clayton's as your first response.
The "Mega Tow" Leader of the Clayton's Pack!
Capable of towing up to 120 tonnes! Equipped to tow any type of truck, semi-trailer, and bus on today's roads.
With our latest trucks, fitted with the best equipment, no matter the vehicle needing recovery, rest assured, Clayton's has you covered. From B-doubles to trucks and semi-trailers. No matter the size we have the trucks to get the job done!
Check out the latest Heavy Towing & Recoveries by Clayton's Towing Here;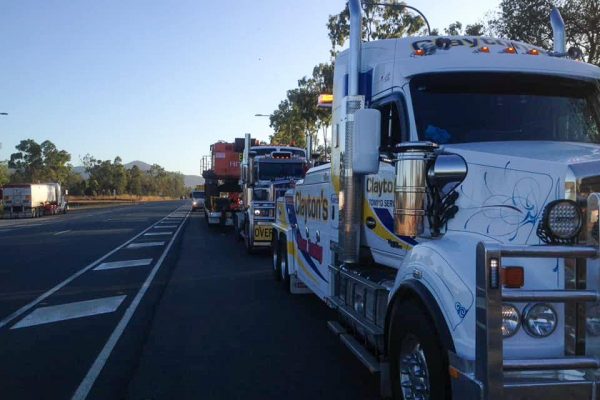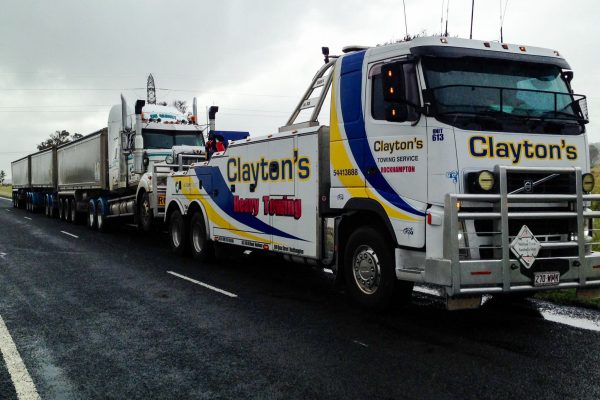 Heavy Tow Truck Services & Solutions
Clayton's Heavy Tow Trucks Service Across Queensland with depots on the Sunshine Coast, Caboolture, Gympie, Nanango, Childers, Rockhampton, and Mackay. Clayton's Towing Service is contractors for all major insurance companies, including NTI Insurance, Australia's largest truck insurer.
Our Heavy Towing Vehicles are fully equipped with Modern Towing and Recovery Equipment so you can be assured when you require service that the Clayton's Towing fleet will have the right equipment to get it done. Clayton's Mega Tows have up to 120 Tonne Towing Capacity and are equipped with everything required to tow any type of truck, semi-trailer or bus that travels on our roads.
Clayton's operators are fully trained in all aspects of Heavy Haulage Towing and Recovery, as well as being B Double Licensed. Operators are also Fully Certified for dangerous goods transport.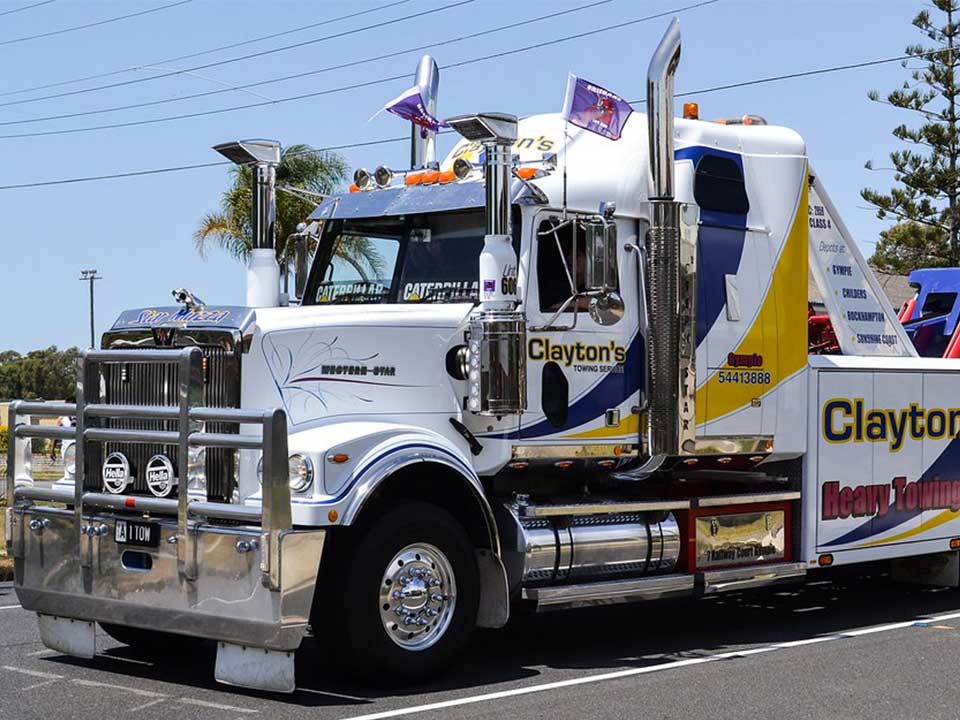 Local Heavy Towing Company
Call Clayton's Towing Service for a quick heavy tow truck despatch
No one enjoys waiting around for roadside assistance. It takes even longer when you have a vehicle that requires a heavy tow truck to be able to move. As the largest heavy truck towing service in Queensland you are never far from help with Clayton's Towing Service. With 14 depots spread across the state our heavy towing vehicles can get to you quickly wherever you are. If you are stuck and need heavy vehicle recovery or
roadside assistance in QLD
, we are available 24 hours a day, 7 days a week and waiting for your call.
Heavy haulage, towing up to 120 tonnes
We have a fleet of trucks dedicated to heavy towing and capable of working with loads of up to 120 tonnes. You don't need to worry about weight. From b-doubles to excavators, we have a heavy duty tow truck able to tow it. All our trucks are fully equipped with the latest recovery equipment and come with an experienced and qualified operator. For any vehicle that needs to go on a platform vehicle, we offer
low loaders and heavy haulage in QLD
to get the vehicle from A to B quickly and easily. When you need heavy haulage, towing, and recovery services we can provide them, regardless of vehicle size.
Truck recovery from any situation
What happens if you need heavy truck towing when the vehicle in question is stuck in a bog or trapped off-road or even sunk? Clayton's Towing Service can help with a heavy vehicle recovery. We'll send a heavy duty tow truck to your location with a crew who can help winch your vehicle and get it unstuck. Once your vehicle is free, the same truck is hooked up and we continue with heavy duty towing, taking the vehicle where you need it.
Truck towing and more from Clayton's Towing Service
Clayton's Towing Service can cater for anything when it comes to your vehicle or towing needs. Along with heavy vehicle towing and haulage, we offer short and long term
container hire
to help you move your household across the state and roadside assistance in case you get stuck. It's just another service we offer alongside our heavy truck towing so whatever you need, you know who to turn to. We are available whenever you need us so give us a call or contact us online.